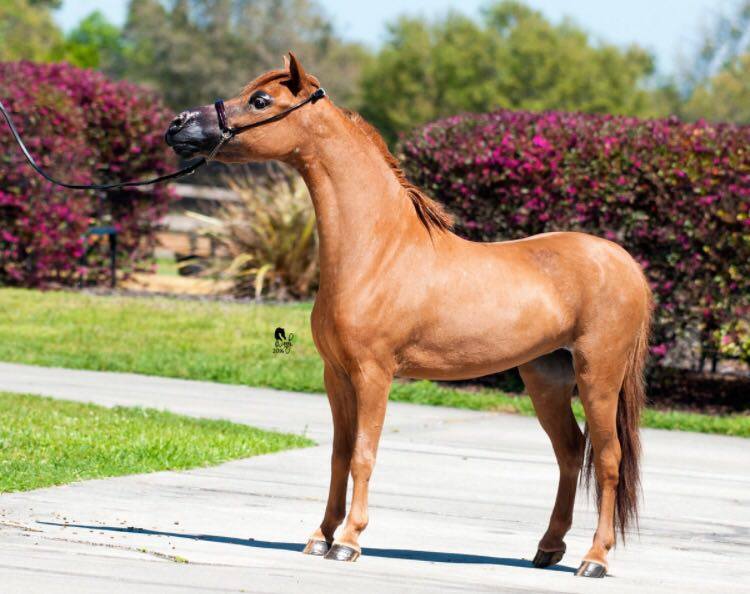 AMHA/AMHR : Dale Rays Southern Breeze aka Breezy
Sire: LOMBARDS CANADIAN NORTHERN LIGHT
Dam: FPF BOOTSTRAPS LITTLE MISSBOOTPRINT
Breezy is a gorgeous appaloosa bred sorrel mare. Her sire, Redi is a Reserve National Champion in Halter and a Snowflake Sorrel Stallion. He sired many gorgeous foals and now is showing as a gelding on the show circuit. He is truly an outstanding appaloosa that has passed his best onto Breezy. Her dam is the GGGD of Sid's Rebel.
Breezy has had one very handsome fewspot colt in 2017. I sold her and she wasn't bred so now she is home I will probably breed her for the 2021 foaling season.
Breezy tests out LP/N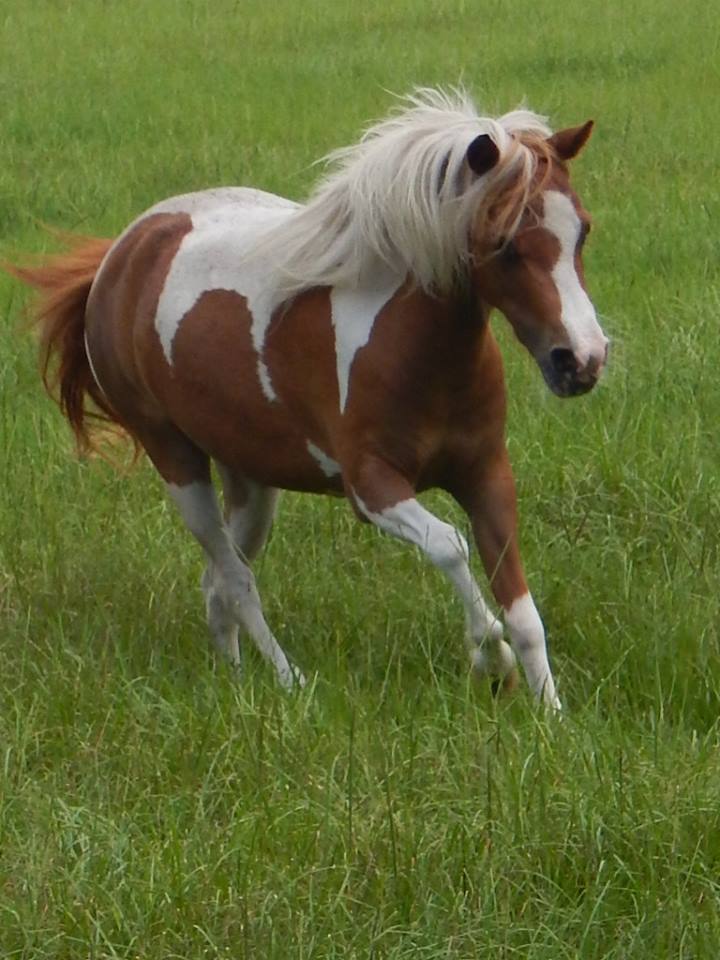 Elevens Sol Afterglow
AMHA/AMHR
DOB: 11/07/2015
Glow is such an ultra refined, very feminine and pretty beautifully put together pinto filly. Her head is gorgeous along with conformation that is hard to beat. She is just outstanding.
Sire: Lombards Redi To Impress
Dam: Scott Creek Monarchs Obsession
For Sale
$ 2300.00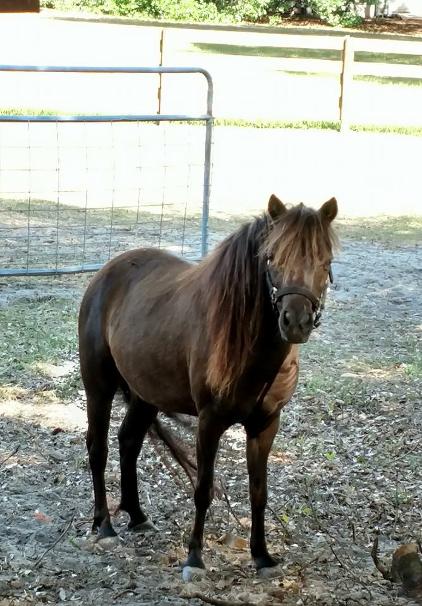 Dale Rays Cheerio aka Cheerio
AMHA/AMHR
DOB: 03/29/2010
Cheerio is a lovely retired show mare. She is refined, correct, gorgeous head and temperament. She is a Buckeroo Granddaughter along with many other notables.
Sire: Ravenwood Cash Chek or Super- Charge
Dam: Dale Rays Bucks Dreamcatcher
For Sale
$ 2000.00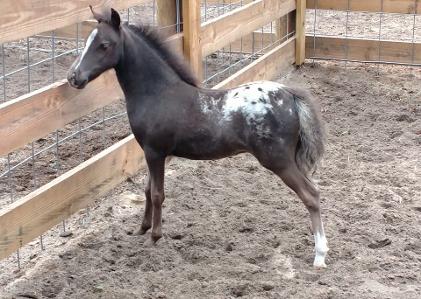 AMHA: SBMF Treasure Trove
AMHR: Southern Breezes Treasure Trove
DOB: April 3rd, 2017
Treasure is a absolutely beautiful little bay blanketed Pintaloosa filly. With her excellent conformation and movement she is bound to be a winner in the halter ring or driving.
Sire: CCMF Cash The Check (Fewspot Appaloosa)
Dam: CCMF Bucks Bolero (Bay Sabino)
$ 2500.00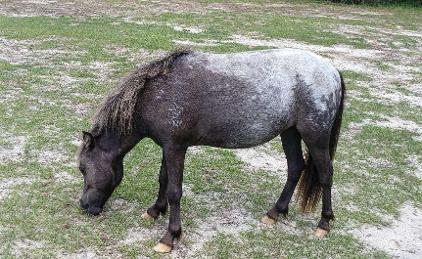 Kissy
AMHA/AMHR
Black Near Fewspot Filly
DOB: Jan. 2018
Kissy is a lovely Black Fewspot filly with a pretty head and correct body. She tests LP/LP and PATN1/N. I look forward to seeing Kissy grow up and produce beautiful foals for me.
For Sale
$ 2000.00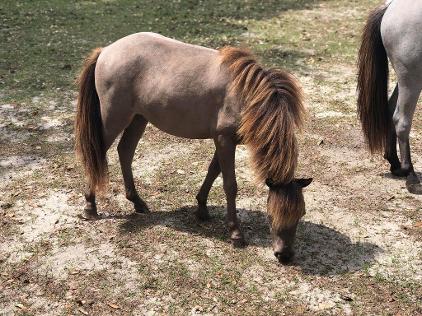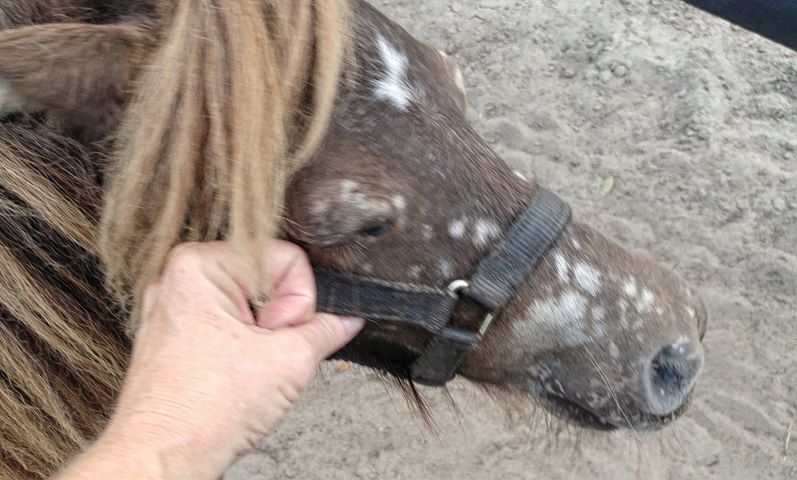 AMHA: SBMF Butterfly aka Butterfly
AMHR: Southern Breezes aka Butterfly
Sire: CCMF Cash The Check aka Cash
Dam: Dale Rays Cheerio aka Cheerio
Butterfly is just so well put together, beautiful and correct conformation, good bite, short back and sweet personality all in a small package.
She tests LP/N . She has been coloring out all over for about a year now and hasn't any part of her body that isn't spotted now. I will change her picture when I get a current one. Until then just look at the 2nd picture on the left to understand what I am saying better.
FOR SALE - $ 2000.00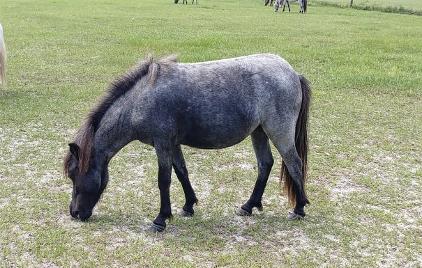 Scarlett
AMHA/AMHR
DOB: 2018
Scharlett is a refined and correct Black Roan Filly.
For Sale
$ 1200.00
All photographs are copyrighted and not to be used without written permission.
Copyright 2012 ~ Last Updated April 7th, 2020.