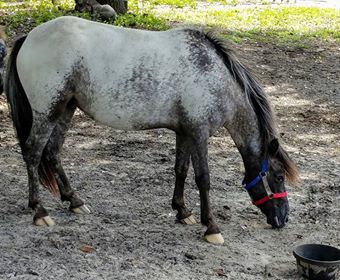 Darlin has found a new job outside of the breeding barn. She is now my Driving mare. She is a pleasure and loves her new job. She was trained by Anne Bartley Gordon and loved by all of us. She is such a good mare. Darlin is Not For Sale at this time. Her leopard daughter will be taking her place in the breeding facility after a severe dystocia almost took Darlin's life in 2020. I was able to buy her daughter back and she will be bred this year for a 2023 foal.
We have now added Micro and Miniature AMDS Donkeys to our program. That division is called Oak Creek Miniature Donkeys. We will be specializing in Black & Black n White, Chocolate and Sorrel Donkeys. If you don't have a donkey or three you don't know what your missing. Please read up on them first though as their care and maintenance is far different than horses. There are links to the articles on my Donkey page.
~~~ All photographs are copyrighted and may not be used without expressed or written permission. ~~~ All Rights Reserved ~ This page was created March 4th 2022. Last updated July 6th, 2022.